Cherlin Family: Isidor (Eisik, Irving) Cherlin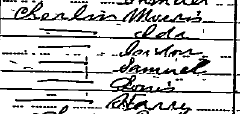 1910 Census
Father: Morris Cherlin or Chirlin
Mother: Ida Leventhal Cherlin or Chirlin
---
Biographical information:
Born Sept. 14, 1903 in Russia. Immigrated in 1907 with Ida. Died in 1968.
Known from 1910 census as Isidor and from SSDI as Irving.
Information from Samuel Haimm suggests he was known in the family as Irving. (We have combined the census information for Isidor with the SSDI record for Irving here.)
Census data: Stew Cherlin
Known from Ellis Island immigration records. From Antwerp, Belgium on the Finland, April 25, 1906, with mother.
Surname
Given
name
Age
Sex
Marital
status
Profession
Nation
Ethnicity
Residence
Destination
Paid by
$50?
Previous visit
Host
Cirlin
Chaie
23
f
m
wife
Russia
Hebrew
Minsk
NY
husband
no
no
husband M. Cirlin
No 30 Canal St. New York
Cirlin
Eisik
2
m
s
child
Russia
Hebrew
Minsk
NY
father
no
no
father M. Cirlin
No 30 Canal St. New York
SSDI: Irving, Sept. 14 1903-June 1968, Soc. Sec. card in NY
---
Sources:
Social Security records census data via Stew Cherlin
familysearch via Stanley Blum, Samuel Haimm 2016:
NYC Municipal Deaths, 1795-1949, accessed Jan 2016, FHL microfilm 2.155.094
entries for Morris Carlin and for Louis Cherlin

Created December 2003